I had a dream to become hot air balloon pilot ever since I saw a picture in my school textbook – a picture of a balloon filled with hot air, flying over a chimney and into the sky. I dreamt of taking off like that; but my dream seemed unattainable.
In 1999, a friend of mine came to Lithuania from Germany. She told me she would be taking examinations for a hot air balloon pilot's licence. I was surprised to learn that this was actually possible. The very next day I was already flying into the sky, and although that was on a tethered balloon, I was overwhelmed. The following week I signed up for courses at the Nemunaitis Balloonist Club (Lith. Nemunaičio oreivių klubas). I had the honour of flying with the legendary pilot Arvydas Dirmeikis, who was also my instructor and taught me of dozens of piloting secrets.
Afterwards everything seemed to go of its own accord. Together with Valerijus Machnorilovas, a hot air balloon pilot and airline captain, I took part in a range of competitions in Ukraine, Russia, Luxembourg, Poland and, of course, Lithuania. Valerijus has taught me the philosophy of the sky and flight, he taught me to be in harmony with nature, myself, and the element of air.
In 2008, I got an airship licence and I still enjoy flying airships in various festivals in Lithuania and Poland. I am also a paraglider pilot. I take part in hot air balloon competitions, which I love for the excitement, the challenge, the danger. Nevertheless, I find quiet sightseeing flights with passengers, especially those flying for the first time, just as pleasurable as competitions. The flight is a unique experience – the excitement, the romance of when you go up to the vast sky, and when you look down, all the problems you had down there suddenly seem so unimportant!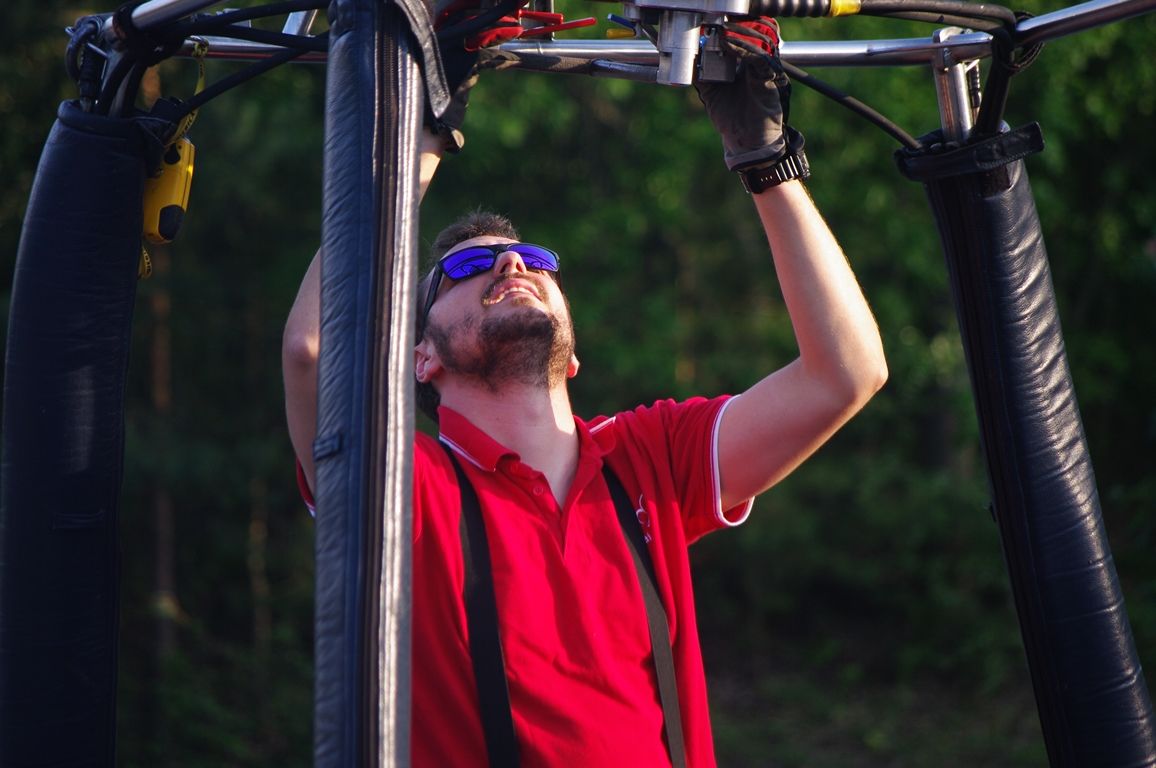 Vytautas Rudžianskas

Pilot
My flying career started back in 1998. My very first flight was in Lithuania's Mecca of hot air balloons, the Nemunaitis village. My future instructor Mr Gintaras Šurkus was the pilot, and a parish pastor and I were the passengers. This ascending to the heavens probably made ​​a much greater impression on me than on the man of God. Since then I barely leave the basket.
In 2005, I obtained a pilot's licence. My three-digit flight record is not that impressive – I've flown for only 400 hours... However, I have to divide my time to fit in other types of aviation – I have an ultralight aircraft pilot's licence, and I recently passed exams for a private pilot's licence (PPL). On my free time I participate in flying competitions, where the most important things are speed, perseverance and the will to win. But a pleasure flight with passengers is also an adventure, and careful planning, safety and everyone's good mood are the priorities our company sets for each flight.